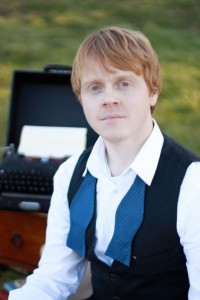 I've always been an artist of sorts. One friend has accused me of being "a sensitive musician." Others just say that I'm moody. The truth is that God has made me this way. Creator has embedded creativity into my whole self. It's ingrained in my DNA. For more than a year and half I've prayed, meditated and contemplated about my life's calling. "God! You've made me this way. What shall I do with the gifts that You have given me?" I have breathed this prayer every day during this time. And, the answer has always been, "Write." Simple, right? I blogged a little about this last week here.
I'm trying to be faithful to this call. So, I have spent the last couple of months studying. No, I'm not back in the classroom. I've been searching the internet for resources and training so that I can develop some skill at writing. One of the resources I've found is a young man named Jeff Goins. He is a writer and a writers' coach. Since I've been following him I've learned a great deal. Perhaps the most important lesson that I've learned thus far has been that I am a writer. Up until now, I was hoping to become one. Jeff has convinced me that there is no becoming. There is only doing. (Sounds a bit like a Jedi master, eh?) Last night I had the opportunity to listen to Jeff and another writer named Michael Hyatt in an online teleseminar discuss some of the ins and  outs of building a platform. During the hour long discussion both men shared outstanding insights into getting one's writing 'out there' for others to read. This is the type of resource that Jeff provides. And, most of it is absolutely free! I like free!
In the few interactions that I've had with Jeff through comments on his blog, I have found him to be open and gracious. He is concise and encouraging in his responses. (Yes! He actually responds!) In fact, he very nearly gushes with energy and encouragement. I am finding it difficult to not believe in myself when someone that I really don't even know believes in me so much. So, I wanted to take this opportunity to say "Thanx, Jeff!"
I would recommend Jeff's site to anyone who struggles with working to become what God has called her/him to. Even if you are not a writer, many of his experiences and insights may be helpful. If you are a writer, they are indispensible.