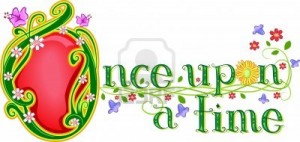 Once upon a time…..
The story opens and new worlds and wonders open with it. I love stories. Any kind of stories. Happy ones; not so happy ones. Stories that thrill; stories that sooth. I'm currently reading one of J.K. Rowlings' Harry Potter books…again. (Yeah, I'm that kind of geek!) I've read other fiction by authors as diverse as John Steinbeck and Mario Puzo. I've spent hours in non-fiction that only a true bibliophile could plow through. I love the stories found in the Christian bible. Especially, the gospel stories. By far, however, my favorite stories are the ones that happen in real life. These are not written anywhere on paper. They are written in people's hearts and lives.
My own story has been a mix of triumph and tragedy, like most everyone else's. If I could graph the peaks of joy and the valleys of sorrow it would resemble the line of an EKG. These show the points at the tops and bottoms that reveal the heart's function. I'm still amazed that my cardiologist can see the residual effects of the heart attack I had almost 2 years ago just by looking at these points. But, how much attention is given to the lines in between? Isn't their purpose simply to connect the dots? Maybe. But, in the real life stories that folks have shared with me, the 'in between' lines carry the most important meaning.
As I reflect on the form, or graph, of my life I notice that the various points are the goals that I've worked toward. The peaks are those goals that have been met successfully. My wedding, the births of my children, my graduation from seminary. The valleys reveal the goals unmet. Vocational choices, some relationships, realizing personal worth. These are the things that I remember. These are the signifiers of my presence in this world. But, they are only points. They are singular events. There is a lot of time in between when nothing seems to be happening. Cutting the grass and doing the dishes. Paying bills and driving to and from work. There are the hours spent in front of the television or reading books. These are the mundane moments; seemingly meaningless.
Over the past year or so, I've been learning, slowly learning, that these times in which nothing seems to happening are potentially full of meaning. They are not simply that part of our lives that run on 'auto pilot.' They are the moments in which decisions are made that will affect the next peak or valley in our lives. And, if we're not careful, we can miss these constructive moments. 'Mindfulness' and 'being present' are terms that some people use to describe the activity of simply paying attention to the moment we're currently experiencing. I find myself constantly looking ahead to the next thing that I must do. I have this task to complete; that place to go. What's for supper? (Even though it's only noon!) How am I going to pay that bill on time? Myriad things vying for my attention right now!
What if I did the dishes simply for the sake of doing the dishes? What if I was truly 'present' at the

sink? Not allowing my mind to wander off to all of the other things that need to be attended to. Not reflecting on the triumphs and failures of the day prior to this moment. I could pay attention to the suds and the temperature of the water. I would see that spot of whatever that isn't washing off. My mind would not be cluttered, but would be at rest; free to exist in this one moment that can never be captured or repeated. Then, this moment would be able to have its own significance in the whole of my story.
What are some of your 'in between' moments? How do they fit into your story?