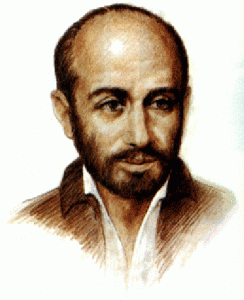 Today I am embarking on a new spiritual journey. My Spiritual Director is going to lead me through what are known as the Ignatian Exercises. For the next 36 weeks, or so, we will travel a path first explored by the 16th century founder of the Society of Jesus, better known as the Jesuits, Ignatius Loyola. Born into the feudal culture of northern Spain, Loyola dreamed of being a part of the grandeur that courtly love and knighthood could provide. He very nearly realized his dream when he was severely wounded in a battle against the French. During the time in which he recuperated from his wounds he read books on the lives of Jesus and the saints. He discerned that people described in these lives exhibited many of the same heroic and chivalrous characteristics that he admired. At the same time, however, he continued to dream about life at court. As he continued to reflect on and examine his thoughts and feelings he noticed that as he contemplated the lives of Jesus and the saints, he felt inner peace and satisfaction. When he thought about life at court, feelings of dissatisfaction predominated. This awareness inaugurated his life quest that culminated in the development and propagation of the Spiritual Exercises. Loyola realized that through prayer, study and a process called examen, perhaps the cornerstone of the Exercises, one could "detect God's presence and discern his direction for us."
Ok, so why am I even considering this process? After all, I'm old and feeble. My life has been lived according to the standards and expectations of our culture. I've worked hard at a vocation to provide for my family. All of the requisite activities of parenthood and marriage have been accomplished. Yet, like Loyola, I continue to strive with feelings of dissatisfaction and restlessness. I have labored for 40 years in an industry that creates in me anxiety and a great sense of helpless entrapment that eats away at my soul. Even family life does not completely fill the void in my heart that our culture, particularly the evangelical culture that I was a part of, claims that it should. There are those who would say that all I need to do is surrender to God's will and all will be well with the world. But, that begs the question…what is God's will? And, I'm not really that interested with all things being well with the world. Occasional happiness and satisfaction would be quite alright. I'm not hoping to experience any profound theological insights. Nor, am I envisioning some kind of neo-monastic lifestyle. The Exercises are about self-discovery. They are a tool for discernment and direction. They are a way to know and experience God's presence in one's life. That is why I am forging ahead with Loyola.
As my Spiritual Director and I follow Loyola's footsteps, I hope to write about the experience here. Perhaps any who read this blog will have insights that can help me and other readers. Please share these in the comments. Do I think this process will be a panacea that answers all of my life's questions? Not at all. But, even at this stage of my life I must have some direction about my vocation…my calling…in life.