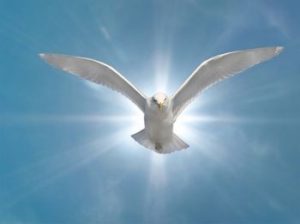 I recently read a devotional written by Christian philosopher Dallas Willard. I've read Willard's other works on Christian prayer and have found it to be insightful and quite helpful. The excerpt that I read was from a collection of devotional readings produced by Richard Foster entitled, "Devotional Classics." This particular reading was taken from Willard's, "The Spirit of the Disciplines." While I appreciate where he is coming from, I have some reservations. For those Pentecostal type folks out there, I had a 'check in my spirit.'
I wondered why those feelings were present. It was a simple reading. No big doctrinal discussion. Something to contemplate. Then it hit me. The term 'disciple' smacked me upside the head. Why, though? That word is used throughout the New Testament to describe the followers of Jesus. Hey! I'm one of those! Then I realized what triggered me. Willard coupled the word 'disciple' with the word 'obedience.'
Now, many in the Evangelical traditions may ask, "So what? Disciples are obedient to there Master." Nothing out of the ordinary with that. That's true. Regardless of the tradition, Christian, Hindu, Buddhist, Muslim, fill in the blank, disciples follow a Master. Christians are followers of their Master, Christ. Or, so the saying goes. The last time I checked Jesus was nowhere to be found. At least not so we can see Him on T.V., or something. And that presents a problem. Who decides what Jesus would say or do in the 21st century?
Back in the early 1970's I was part of what has become known as the 'Jesus Movement.' We were for all intents and purposes a rag-tag bunch of hippies who professed faith in Christ. I believe to this day that God was active during this period. It was exciting! We thought that we had somehow been called by God to reclaim and rebuild the original spirit of the Church that existed in the 1st century. We believed that what had happened in the book of Acts was happening again in our time.
We gathered together to worship and sing and hear brothers teach about the scriptures. Some of us moved into common households so that we could 'hold all things in common.' There were a few men who assumed positions of leadership. We believed that they were anointed in the same way that Timothy and Titus and the elders of the early church had been. And, we were taught that we were to be obedient to these men as 'unto God.'
Now, I want to make it clear that there was no subterfuge involved. We, all of us, were truly trying our best to follow the words of the Bible as faithfully as we could. The only thing was, we were NOT the Church of the first century. We were not wrestling with what it meant to follow a dead Messiah in a pagan culture. We had 2,000 years of developed theology to follow. And, we lived in a culture unlike anything that the first church would have understood. Basically, we were privileged white kids trying to emulate a movement that began as an oppressed minority.
To return to the devotional, we were taught that discipleship has as its root the idea of 'discipline.' Physical, spiritual, and emotional discipline. We began to see the Bible as a User's Manual. It had all of the answers on how to live a vibrant and successful life. That is, if one would follow all of the rules faithfully. And, the elders were there to make sure that we did follow them. In effect, we became disciples of those elders, who we trusted were disciples of Christ.
Alas, experience has taught me something else entirely. The Christian Bible is a collection of writings by many, many people from many, many different time periods. It has inconsistencies and contradictions and holes in it. For instance, there's nothing in the Bible about water on Mars. The fact that our Sun is actually a star somehow got past the Biblical writers. What to do about global climate change isn't addressed. Shoot! Global climate change itself missed the writers' cut. The fact is that the Christian Bible does not, it CANNOT, have all of the answers for people to live vibrant and successful lives. And, it truly was never meant to fill that role.
So what? What does any of this have to do with my devotional? Willard made the statement that obedience, by  itself, was sufficient for a person to live the so-called 'abundant life' promised in the Gospel of John. In a way, that may be accurate. But, because of the manner in which it is taught to so many poor, unsuspecting people, it is not. In so many fundagelical churches people are taught that they must grit their teeth and press forward in order to reap the benefits of discipleship. They even have a saying, "Fake it til you make it." Pretty cool, huh? No! It's not. This is another link in a long chain that binds people. They try. They fail. So, they try again. They fail…again. All the time feeling inept, unloved, strange, or an anomaly. After all, didn't their spiritual elders tell them that this would work? But, it didn't. They think, 'It must be my fault, my lack…my sin.' So, the link is forged. From my perspective the link is forged in the fires of Hell.
The Psalmist wrote, "Be still and know that I am God." I think that is pretty good advice. Truthfully, until we can rest and be still we cannot be transformed. No amount of sweat and grit will suffice. We can batter and bruise our bodies. Yet, we will still be lacking. In more than one place the writers of Scripture mention a 'still small voice,' or that God isn't in the tempest and flame, but in the gentle breeze.
As I have walked, (maybe, crawled is a better word), along this spiritual path, I've found that the more I work and strive, the less I progress. It has only been in the last 6-10 years that I have learned that the Spirit of God doesn't need our outward help. The Spirit needs us to shut up and listen. In the quietude of silent contemplation the Spirit, Ruach Elohim, chips and sands and refinishes. It is ALL grace and ALL God!
Perhaps, the most important insight for me is that I no longer have the shame and guilt that comes from FAILING to keep all of the rules. There truly is 'no condemnation' in following this path.
Please, if you've been troubled or weighed down by trying to follow all of those damnable rules; trying to force obedience; faking it hoping that you'll make it; Take heart! Sit back! Relax! And, turn your heart toward the true lover of your soul. You'll not be disappointed.