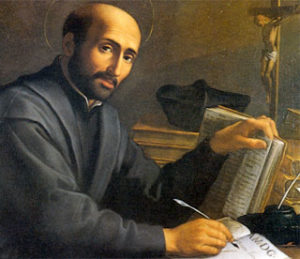 I'm currently revisiting "The Spiritual Exercises of Saint Ignatius."
I first went through these exercises a few year ago with my spiritual director.
Recently, in my morning quiet time I have felt a need to go back and take another look. Why? I don't know. It's just a feeling. I've found that feelings I get like this during contemplation should not be dismissed. They usually lead to something pretty cool.
For the exercises, Ignatius encouraged meditation that involved the use of "fantasy," or, the imagination. This is a form of meditation is what the old timey theologians described as "kataphatic." This type of meditation is usually defined "prayer [that] has content; it uses words, images, symbols, ideas." It involves the conscious memory to place a person in a relationship with God. In the Exercises this involves imagining various situations, mainly from Gospel stories, where the person meditating "places" him/herself in the story as a participant or observer. One is encouraged to see the environment, taste the food, smell the animals, touch and feel things like the wind. The text becomes a tour guide while the imagination supplies the world being toured.
I realize that our own personalities, memories, and knowledge will color these meditations. That cannot, nor should it, be avoided. After all, the purpose of these exercises is to forge a deeper relationship with God for ourselves. So, we must bring our entire self to them.
Yet, God's grace guides us. That's where faith comes in. We can trust that we're not going too far afield. Plus, these exercises are primarily designed to be used with a trusted Spiritual Director. Someone who will assist in discernment and help keep us on track.
With that in mind, some interesting interpretations and understanding can come out of the experiences. I want to share some of mine.
During what Ignatius called "the First Week," there are a couple of meditations on the Incarnation of Jesus and His Nativity. Those are just a couple of high-sounding words that mean "when Jesus was born." I am using the following text for the outline of the meditation. For those of you keeping score, this particular passage is taken from the New International Version, Biblica, Inc., 2011.
We'll begin our journey with my next post.
Luke 1:26-38
In the sixth month of Elizabeth's pregnancy, God went the angel Gabriel to Nazareth, a town in Galilee, to a virgin pledged to be married to a man named Joseph, a descendant of David. The virgin's name was Mary.
The angel went to her and said, "Greetings, you who are highly favored! The Lord is with you."
Mary was greatly troubled at his words and wondered what kind of greeting this might be.
But the angel said to her, "Do not be afraid, Mary; you have found favor with God.
You will conceive and give birth to a son, and you are to call him Jesus. He will be great and will be called the Son of the Most High. The Lord God will give him the throne of his father David, and he will reign over Jacob's descendants forever; his kingdom will never end."
"How will this be," Mary asked the angel, "since I am a virgin?"
The angel answered, "The Holy Spirit will come upon you, and the power of the Most High will overshadow you. So the holy one to be born will be called the Son of God.
Even Elizabeth your relative is going to have a child in her old age, and she who was said to be unable to conceive is in her sixth month.
For no word from God will ever fail."
"I am the Lord's servant," Mary answered.
"May your word to me be fulfilled."
The the angel left her.
Luke 2:1-7
In those days Caesar Augustus issued a decree that a census should be taken of the entire Roman world. (This was the first census that took place while Quirinius was governor of Syria.) And everyone went to their own town to register.
So Joseph also went up from the town of Nazareth in Galilee to Judea, to Bethlehem the town of David, because he belonged to the house and line of David. He went there to register with Mary, who was pledged to be married to him and was expecting a child.
While they were there, the time came for the baby to be born, and she gave birth to her firstborn, a son. She wrapped him in cloths and placed him in a manger, because there was no guest room available for them.
As always, please use the comments to add your own thoughts or to ask questions.
If you like what you read in these posts, invite a friend or 12 to join us!