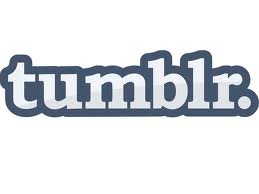 In July I was introduced to tumblr. Mostly, because Rachel Held Evans started a blog there. (Ok, I pay attention to what she does cuz she's successful and I'm not.) Many young folks have migrated there because Facebook has become the hallowed grounds of the Old and Unknowing. I don't understand how young folks don't get that wherever they go, the old and infirm are sure to follow.
Anyway, I've become addicted. I never thought that social media could grab me and drag me in…but, tumblr. has. CRAP! The tumbr. world is diverse. There are people posting images, poems, short prose and quotes. Some of the blogs are designed to enable writers and artists to share their work and to learn from one another. Some of these allow others to submit their work for online publication. Others simply offer tips and encouragement. And, actually, much of the art, photography and writing is quite good.
There is another side to tumblr., however. Many of those who blog there, perhaps most of them, are young adults. This particular medium offers them a venue where they can explore and expand on the conflicts that they experience as they journey, the best that they can, from the safe world of childhood to the unpredictable world of adulthood. I think that part of the allure of tumblr. is that it allows people to post pretty much anything and everything. Someone may post an image of a forest stream one minute. In the next, they show the scars where they have cut themselves. Another may post kittens and unicorns followed by images that suggest drug abuse. The whole universe of teen angst is on display for the world to see. Shocking? Yeah, some of it is. And, I think that's the purpose for much of it. Through images and words that press against social morés, many of these people are clearly seeking attention. This is nothing new. Young adults seek to find an identity that they can live with. By drawing attention to themselves they can test and find that which will, in some way, make them 'acceptable.' There are others, though, that seem to be stuck. For them depression and sadness have led to self-harm and other self-destructive behavior. These are the people that I can empathize with.
I am, as one friend puts it, "a sensitive musician." He usually says it as a kind of fun pejorative. But, he's right. In a brain dominance test many years ago, I was the group's 'space cadet' because I live in the right side of my brain. As a young person I felt misunderstood and marginalized by family and friends. I experienced deep depression and sadness. At times I fell so far into myself that I didn't realize that I had just scratched the skin off of the tops of my hands so that they bled. I found some solace in drugs and alcohol. Yet, this only seemed to help for a short while. I have always had a sense of unworthiness. Unworthy to receive good things…including love. Imagine my surprise when I learned that there is a person who can love without condition. This person understands the alienation and pain that I know so well because he experienced it himself. Yeshua ben Yosef…Jesus son of Joseph…is that person. Am I well now? Hardly. I still deal with depression, self-loathing and some self-destructive activities. But, I am not alone. And, I have a relationship with Someone whom I am confident 'gets' me. More than that, however, I have a connectedness with others who, like me, have hope for the future. Perhaps, this is why I'm so drawn to the young people who inhabit the tumblr. universe. They are me. We are a community of hurting misfits. We think and reflect deeply about our world and how we can be a significant part of it. We desire to be understood, yet, in a way we take pride in knowing that we can't be understood. We refuse to be categorized, preferring instead an enigmatic life. But, we appreciate your presence more than you can ever know. We receive life from you when you notice us. The God who I follow has fashioned us to be a community. We are all interrelated in ways that my puny, little brain cannot ever hope to fathom. I can only share my small spark of life with those who need it. tumblr. is a place where I can do that.