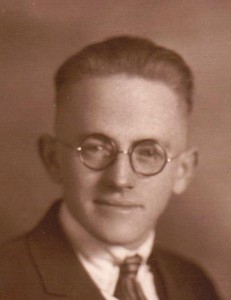 This past weekend I got to know my paternal grandfather a little bit. I never did meet him before he died in 1959. I was just a wee lad and he lived in another state. My dad never talked about him much. He and my dad's stepmother had divorced and Tom left dad with her. I don't think dad ever really forgave him for that. The story was that Tom was an alcoholic and pretty much not good for anything. At least, that's the version I was told.
I have spent much of the last month since dad's passing sifting through papers, photos and other bits and pieces of his and mom's life. This past weekend I finally got to the boxes of pictures and old letters. Scribbled on the lid of one box, with black magic marker, was "Tom." In that box I found a treasure. There were photos of a young child in clothes that would definitely get him beaten up if he wore them today. Tom was born in 1897, so the styles, especially the dress styles, were…well, something to behold. Think of Ron Weasley at the Hogwarts' Yule ball in The Goblet of Fire. There were a few family photos showing Tom with his parents and siblings. All of these image revealed the family standing rigid and straight-faced as if the camera was a firing squad. Then, I found a couple pictures with Tom and his first wife, Mary. That marriage did not last long. His second wife was named Goldie. My dad came into this life as the consummation of this union. Unfortunately, Goldie passed from tuberculosis when dad was just 6 years old. I don't think that Tom ever really recovered from that. It seems that the loss of his beloved Goldie was the beginning of his downward spiral into the maelstrom of alcohol and forgetfulness. Tom did remarry, I think for Bill's sake, but as I wrote above, that did not last nor end well.
Tom relocated to Florida where he pretty much fell off the grid. Perhaps, he thought that the further he could run from his past the better he would feel. He found employment on various farms helping to harvest citrus and other fruit and vegetables. These years have been erased…at least for me. Perhaps one of Tom's siblings kept some information that has been passed on. But, I really don't have any contact with any of  them. What I did find, however, was a stack of old letters and other correspondence from the last few years of Tom's life. Most of the letters were written by Tom to one of his sisters in Ohio. These letters, dated between 1956 and 1959, revealed a man who was lost and reaching out to the only people who could connect him to a happier existence.
Tom was a simple man. The letters were penciled on small note pad type paper. The hand that drew the characters was not steady. Maybe from drinking. Maybe from handling something as foreign as a writing instrument. It was obvious that his education was not a high priority when he grew up. The spelling and grammar were at a grade school level. He was 'shure' glad when the 'wether' was nice and his 'cocial security' check arrived. The content was simple. He asked about his sister's life and condition. And, he replied with reports of his health and the current weather conditions. I found out that my dad had been writing to him, as Tom wrote that he had received letters from Billy. Funny, Dad never mentioned that. From these letters I learned that Tom had to have a leg amputated 4 inches below the knee. He considered the repercussions that the 'wooden leg' he was getting would have on his life. I don't know why the leg was removed. I think that the cause was a work related injury because he mentioned disability checks. But, that's only conjecture. In letters dated form 1958 I learned that Tom had throat cancer. His frustration at getting straight answers from doctors was quite evident. (I guess some things never change.) At one point he wrote that he was convinced that he did not have cancer, but a 'toomer.' And for that, he was getting 'treetment'.
In all of the letters there was an almost desperate longing for relationship. Although he put on the façade of someone who was independent and was taking care of himself, he ended the letters with pleas for his sister to answer the letter quickly. Or, he wrote for his sister to tell Perl, his brother, or Billy to please answer his letters. It was as if he was shouting, "Sis! Please tell someone…anyone…to talk to me, listen to me…touch me!" As the summer of 1959 unfolded, Tom's health took a turn for the worse. I found a couple of letters from Tom's doctor stating that there was nothing more that they could do for him. The best treatment they had was simply palliative, or comfort care. Late that summer my family and I were in Maine on vacation. It was there that dad received the call that Tom had passed.
We packed and returned home.
Tom's sister made all of the arrangements to have Tom returned to Ohio where he finally found peace lying next to his mother in a small cemetery on a hill in the countryside.
I still don't know Tom. I've learned a little about him. But, just like the word 'tree' is not actually a tree, these mementos are not actually the real man. There is so much that I don't know about my adopted family. People I will never know…places and events that have long since escaped memory. I have few ties with the past…the legacy of humanity. I have embraced my place as one grafted into this family tree. Thomas Lester Helbert is the name of my branch.