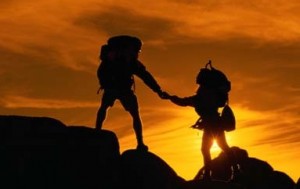 The journey begins. No one said that it would be easy. Rocks; boulders; deep crevasses impede forward motion. Yet, forward we must go. For, to retreat…to backtrack…is futility itself. Clambering over obstacles. Vaulting over lacerations  in the earth, deep and unhealed that no salve can sooth. Forward, ever forward.
Yet above, you know, that place where God dwells insulated from the mundane…the "everyday." The place where mere mortals press onward. Forward, ever forward.
"When I was a child, I used to speak like a child, think like a child, reason like a child." But, I am no longer a child. I am enveloped by the 'NOW!' Beneath azure skies where the gods dance I am enshrouded by the nebulous mist of incense filling the temple of my heart. NOW! Pressing me forward, ever forward.
Attentive to the sound of my breath; my heart playing rhythms reaching out to the life that surrounds me. Searching for intimacy. Where are you, my Soul? Come! Take my hand as we leap, dance and run forward, ever forward.
In those days darkness will draw near. The sound of flies buzzing in my ears. I will lie down to rest. Sleep! Blesséd sleep! Yet, the journey does not end. For even now…I must press on forward, ever forward.