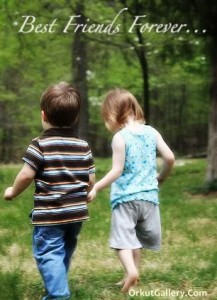 This is the second part of a series about the possibility of women and men building 'best friend' relationships. As I reflect and write about this topic I find that it continues to morph and grow into something more than a simple yes or no can address. Yes, there will be a part three. And, at this point probably a part four. We'll see where God takes us.
Last week I began writing about relationships between women and men here. Particularly, on the possibility of them being 'best' friends. I stated some of the common objections to these relationships. And, I began to deconstruct some of those objections as having their origins in a particular, privileged male view of sexuality. I pointed out how this view demeans and silences women, as well as reinforces the image of how poor, weak men are bound to be ensnared by the sexual wiles of women. I feel that view of sexuality is pretty much crap talk. I'm not about to go along with any position that unfairly labels women as sluts or gives men a pass on their own, personal faults. What I am going to do today is try to unpack some of the issues regarding cross-sex relationships.
When I was a young boy most of my best friends were other boys. We played in the woods and climbed trees. We raced bicycles and played baseball. We prided ourselves as being true 'He Man Woman Haters.' However, I knew who the fastest kid in our class was. And, she could beat any one of us boys in a foot race. When teams for kickball were chosen, I tried to make sure she was on my team. In the classroom I spent more time with the girls because they were smarter than most of my guy friends. It always helped to be on their team during spelling and math contests. Many times outside of class boys and girls played together. (That is, as long as the girls didn't want to play house. Yuk!) The point is kids know how to be friends with anyone, regardless of gender. But, something happened as we got older. Our bodies began to change. Hormones started messing with us. Parents and other adults started telling us that boys and girls needed to start preparing for marriage. Physical pressure, peer pressure and social pressure built to the point of bursting. I'm surprised anyone survives this! All of the sudden…the innocence is gone. Now, we have to learn a whole new way of relating to one another. The girl who once was one of my best friends has become a sexual object. Not because we chose that path. But, because others defined it for us.
I want to be clear about something before I continue. In this series I'm not addressing casual or professional acquaintances. These relationships are viewed as completely necessary and acceptable by most people. I am writing about the possibility for women and men to have relationships in which their hearts are knit together. In which they become kindred spirits who support and encourage one another. In essence, they are best friends in every sense that implies. However, they remain just friends.
Impossible? I don't think so. Let's take time to look at some of the issues.Please note that these are serious issues. Many good people and relationships have been shipwrecked because of them. So, I do not take them lightly. I do, however, want to place them within a context that may, perhaps, shed some light on them and offer hope to people who may feel lost and hopeless.
In my last post I shared a video clip from the movie, "When Harry met Sally." Billy Crystal's character said that it was impossible for women and men to be friends because 'the sex part' always gets in the way. I think there's some truth in that statement. Whether it's always an issue, I'm not sure. I do know that in many cases physical attraction and desire are potential deal breakers. I don't want to belittle this issue, but I think that we need to understand that 'the sex part' is totally natural. As I wrote before, we are sexual beings. However, we tend to obsess over this. Especially, in the purity culture, sexuality is whispered about or it is ignored. This sentiment seems to have its roots in how the early church incorporated the Christian scriptures and Greek philosophy, particularly Plato. That view divides the unseen ultimate concept of things from their physical representation on earth. The physical is always something 'less than' the ultimate, non-physical reality. The church began to understand that the spiritual reality, therefore, is something to be sought after. The physical, or the 'flesh,' was something to be despised. Spirit=Good; Flesh=Bad. However, the folks who wrote the First Covenant did not seem to view humanity like this. Theirs was a wholistic view of people. It looked more like this: Flesh+Spirit=Soul. This view honors the whole person. We can accept and embrace ourselves as God's image bearers in God's Good Creation. I truly believe that grasping this is the first step in freeing ourselves from the prison of shame and false modesty. That freedom is necessary for openness and friendship to be established between women and men. Freedom can be won when a person admits and owns their sexuality. When I confess that, yes, I am attracted to this person, I don't have to hide it or deny it. I can embrace it. After all, this 'sexual' me is part of who I am…who God has formed me to be. By not giving into shame and obsessing over my human nature I don't empower it. I can simply admit that it's there and move on. I do not have to gratify it. It took me a long time and some monumental failures to learn this. And, it wasn't until I realized that one of my best friends is a woman that I began to understand that embracing who I am is one of the greatest safeguards against pursuing 'the sex part.'
There is another potential hazard that I think is vital to understand. It is, perhaps, even more important than this one. But, you'll have to wait for part three for that.
How do you feel about your identity as a sexual being? Is it possible to accept and embrace ourselves as whole persons and share that with others?