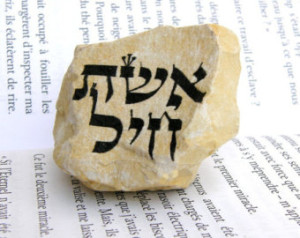 This is what I had the honor to share at my mother-in-law's Memorial Service on Saturday.

---
We're here today to celebrate the life of Irene (Mickie) Taylor. And, what a life to celebrate! Ninety-nine years of love and caring. As I began to reflect on her life, I was drawn to portions of Prov. 31. I'd like to paraphrase these portions beginning at verse 10, "She wears strength and beauty and she laughs at the future.
"She opens her mouth with wisdom and the learning of kindness is on her tongue. Give her of the fruit of her hands and let her works praise her in the gates."
The 'she' that the writer was speaking of is Eshet Chayil. Those two Hebrew words are the first 2 words of verse 10. They have been translated many ways. Some translations say a "worthy woman." Others, an "excellent wife." Still others, a "wife of noble character." While these may indeed characterize Mickie to an extent, there is another way to interpret Eshet Chayil. A "Woman of Valour."
The word valour carries with it a kind of macho, male connotation. However, several synonyms show this to be an appropriate description of Mickie. Some of these synonyms are pluck, courage, bold, spirited. Anyone who knew her knows these words can surely describe her. I'd like to take a look at some other Women of Valour whose lives reveal some of these characteristics.
There was a woman who lived in what is now Iran. For whatever reason, her father-in-law thought it would be a good idea to pack up the family and move. So, they traveled to a place in the vicinity of Northern Syria. After a while her husband came to her and said, "God spoke to me and told me to pick up stakes and head south." Now, I don't know about you, but I think that by now this woman was beginning to wonder what was going on. But, she listened to her husband, they packed up all of their belongings and moved on. This woman's name was Sarai. And, she was definitely in a trying relationship. After all, she had been perfectly comfortable in Ur of the Chaldean's. Then just as she was settling in at Harran, her husband is hearing voices and the family was on the move…again.
After some time in this new land, Canaan, there was a famine. So, the family moved to Egypt where there was food. Her husband, Avram, made another not so grounded decision. He told Sarai that she had to tell everyone that she was his sister. He was afraid that, because of her beauty, someone might kill him in order have her. Well, that didn't work out so great. Pharaoh found out about her and took her into his harem. God came along and bailed Avram out and Sarai was returned to him. The famine ended and Sarai and Avram went back to Canaan. Some time later God came to Avram and made a covenant with him to make him a Father of Nations, so God changed Avram's name to Abraham. God also changed Sarai's name to Sarah. Abraham and Sarah moved around in Canaan because they had no land of their own. At one point they stayed in a certain place where there was a king named Abi-melek. Abraham apparently didn't remember the trip to Egypt. He again told his wife to say she was his sister. Maybe Abraham thought that since things worked out so well before, they'd work well again. The story repeats that Sarah was taken into Abi-melek's harem. Bad things happened and God came to the rescue. This was the second time that Abraham had placed Sarah, his wife, in harm's way. And, the second time she followed his lead. That says a lot about Sarah's character. Mmm, maybe not so much about Abraham's.
Finally, Sarah became pregnant. She bore a son and he was named Isaac. Isaac was adored by his mother. After all, she was 90 years old! And, Isaac was her first born. What joy she experienced! When Isaac was older, however, Abraham said that he heard from God that he was to sacrifice this beautiful son that had been promised. How much he told Sarah about this, we don't know for sure. But, the next thing we hear about Sarah was of her death.
Sarah surely had many trials being married to a difficult man. Yet, she persevered. She showed real 'pluck' throughout her life with Abraham.
For most of her married life, Mickie, too, had to show that same pluck. Every day she and Gene would get up and she would drive them to work. After a full day at Flexo Products, she would drive to Columbia Gas and pick Gene up. She would then drive across the street to a pub where she would wait in the car while he 'unwound' from his day. They would drive home where she then prepared a meal for the family. It was hard. She persevered through many trials. However, when asked what had attracted her to Gene, she said that he was kind. She was able to see the very best in people. That integrity and inner strength of character allowed her to not only be tolerant, but to be extremely gracious. And, that grace spilled over on to all of us who knew her. Truly, like Sarah, Mickie was Eshet Chayil.
Another woman lived at a time when her people had been deported far from their homeland. Her name was Esther. Through a number of events, this woman was noticed by Xerxes, the king of Persia. He took her into his harem. There, Esther became Xerxes' favorite. As the story progressed we find that Esther's uncle, a guy named Mordecai, uncovered a plot to assassinate Xerxes. He told Esther, who informed the king, giving credit to her uncle. We see here a glimpse of Esther's commitment to her family and her people.
A little later a man named Haman rose up in the court of Xerxes. He enjoyed the honor and adulation of everyone who was subordinate to him. Mordecai, however, refused to honor him. It became known that Mordecai was a Jew. So, Haman petitioned the king have all of the Jews throughout the realm put to death. When Mordecai heard of this, he went to Esther and asked her to intervene. Now, it's important to understand, that at that time anyone who entered the presence of the king without permission did so on pain of death. This held even more strictly for a woman. Yet, Esther prepared herself and, taking her life in her hands, she entered the inner court. Xerxes saw her, and "he was pleased." Esther asked the king to come to a banquet that she was holding to honor Haman. (A wisdom that we aren't privy to til this point.) On the second night of banqueting, Xerxes asked Esther what he could do for her, up to half his kingdom. She answered, saying that her petition was for the king to spare her people. She told him that she was a Jew and that Haman had orders to kill all of the Jews. The king reversed his decree and had Haman killed instead.
Esther was willing to forfeit her life for her family and her people. Regardless of any obstacles, she was truly courageous. Mickie absolutely would do anything for her family. She saw herself as the glue that held them together. No sacrifice was too costly. No discomfort too extreme. And, she could be very adamant about that. I remember once when Hope and I were dating, I brought up the possibility of Hope graduating from high school early so that we could get married. Mickie, in no uncertain, (and I might add colorful), terms let me know that was never going to happen. I'm sure many of you can relate a time when she drew a line and said, "No further!" Discussion over! Esther was definitely Eshet Chayil. Mickie was Eshet Chayil.
Finally, I want to tell you a story about a young woman. She was about 14 years old. She had been brought up and trained to be a good Jewish wife. All of her expectations and dreams revolved around this future. After all, in a very patriarchal culture, her options were limited. She lived in a time when a woman was little more than property. First to her father; then to her husband. These roles were strictly enforced by religion and culture. One day a man showed up saying, "Greetings, you who are highly favored! The Lord is with you!" He explained to her that she was going to give birth to a son. Wait a minute! She wasn't officially married. In fact, she had a fiancé who would be oh so ticked about his virgin wife becoming pregnant. Not only that, her family would be publicly shamed. They had promised Joseph a virgin. Not only would she not be that, she would bring an illegitimate child t, too. This young woman, brought up in a strict, religious home knew the repercussions of all of this…stoning to death. Yet, her response was, "I am the Lord's servant. May your word to me be fulfilled".
We don't usually contemplate this. Mary's response could have sealed her death. But, she trusted this messenger. No, she trusted God who sent this messenger. Mary's response caused her to later praise God saying,
"My soul glorifies the Lord and my spirit rejoices in God my Saviour, for he has been mindful of the humble state of his servant. From now on all generations will call me blessed, for the Mighty One has done great things for me – holy is HIS name. His mercy extends to those who fear him, from generation to generation. He has performed mighty deeds with his arm; he has scattered those who are proud in their inmost thoughts. He has brought down rulers from their thrones but has lifted up the humble. He has filled the hungry with good things but has sent the rich away empty. He has helped his servant Israel, remembering to be merciful to Abraham and his descendants forever, just as he promised our ancestors."
Mary Lou mentioned to me that Mickie was as 'born again' as anyone she ever knew. I don't think that Mickie would put it that way. She would simply say that "I am the Lord's servant. May your word to me be fulfilled". Her faith in God never wavered. She loved the fellowship of saints. She loved the opportunity to worship God in spirit and truth. Mary was Eshet Chayil. Mickie was Eshet Chayil.
There are many more women who were Eshet Chayil that I can't say a lot about. There was Deborah who helped lead her people in their struggle with the Canaanites. Tamar, who was cheated by Judah and who boldly confronted him for the birthrights of her sons. One of whom, Perez, was an ancestor of Jesus. Ruth, who was also called Eshet Chayil, whose boldness continued the lineage of Jesus. Hannah, the mother of Samuel. Junius the apostle. Lydia, the first convert to Christ in Europe. Lois and Eunice, the grandmother and mother of Paul's true son in the faith Timothy.
I could go beyond the Bible and cite Joan of Arc, Marie Currie, Mother Theresa and many, many other Eshet Chayil who have formed us, protected us, nurtured us and passed on faith, courage, integrity and strength of character.
Eric S. Kingston shares:
A woman of valor makes the world change
Her strength is the content that guides through the days
Defined by her actions that bring light to all dreams
Valor is something that's defined by her deeds.
Her valor is golden, sparkled and gray
She stands up to the challenge no matter the way
It can't be held back or defined by her age
Yes, a woman of valor makes the world change.
For valor's not held by the young or the old
But by the deeds of the heart that give and unfold
It's merit and honor that hold no disguise
Like the creation of being in the blessed Holy One's eyes.
For valor is the color of the song of her soul
As she changes, creates and turns light into gold
Divine is Her Presence, be it joyous or sad
— A Woman of Valor —
May offer little, but it will be all that she has.
For only her heart will know the depths of her soul
That nurtures and blossoms and forever unfolds
And holds in its essence new life and new gain
Yes, A woman of valor makes the world change
A woman of valor makes the world change
A woman of valor makes the world change.
There is no doubt that Irene has taken her place as Eshet Chayil.