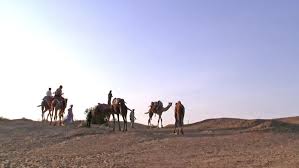 This is part two of the Nativity meditations. This one is about the journey that Joseph and Mary took from Nazareth in Galilee to Bethlehem in Judea for a census that Rome had decreed. Part one is here.
It was early spring in Galilee. The early rains had been good and the crops were beginning to break through the surface of the rich earth.
Joseph made arrangements for he and Mary to travel to Bethlehem in Judea. Judea! All that way just to make Rome happy.  What a pain! It was one of the busiest times of the year for the young carpenter. Plows and tools needed to be fixed. There were carts and wagons to prepare. And, there was talk of rebuilding the town of Sepphoris about 4 miles north. But, is any time really a good time for Rome's nonsense?
Mary wasn't looking forward to the trip, either. She was nearly to term with her firstborn. Childbirth was hard and dangerous for any woman. It was especially so for a girl barely beyond childhood herself. She would be leavingf her family and the other women who had supported her throughout the pregnancy.
"Take plenty of towels and clothes."
"More blankets would be better."
"Don't let those 'men' tell you how you feel or what you need to do!"
Mary would miss them hovering over her.
So much to remember! So much to do!
Joseph put Mary into the cart he had arranged. She could not walk that great distance. And, riding a donkey? Not hardly in her condition! The pack animal was laden with the food, water, and other essentials they would need. Joseph said goodbye to his friends and led the animals down the road.
At the edge of town the young couple met the person who had helped make the arrangements. He was a short man with a gray-flecked beard and a quick smile. He looked like the typical person who didn't do 'real' work for a living. But, he had a gift for bargaining and had an eye for details.
"Hello, my friends!" he called to them. "The soldiers are here and the others from Capernaum will be along shortly."
The soldiers were from a local Roman garrison. Several of them were going to new assignments in Judea. The man had talked with a Centurion and arranged this trip so that his group could have the added protection. Although the trip would not take too long, the road was fraught with danger. There were bands of thieves and Zealots who had no problem robbing and killing unwary travelers.
Joseph and Mary had traveled South many times for the festival at Jerusalem. They joined with family and friends to sing and dance.  The events of that night so many long years ago were remembered. No, more like reenacted.  Their ancestors had sacrificed lambs and sprinkled some of the blood on the door posts and lintels of their homes in Egypt.The angel of death then 'passed over' those houses. It was a time to celebrate and remember that God had chosen them for God's own people! And, for the children? The trip was a great adventure!
This time was different. There was no celebration to look forward to. Joseph was now a responsible adult. He was about to become a father!
The afternoon Galilean sun was brutal. So, they traveled during the cool mornings and evenings. Progress was slow. Mary had to stop often to 'relieve' herself. Pregnancy was not all fun and games! The soldiers mocked that Jewish woman with the weak bladder.
"C'mon woman! We don't have all day!"
"Carry a bucket!"
As these men laughed and mocked, Joseph and the others did their best to hide their hatred for these invaders. Yes, they brought a kind of peace to Palestine. But, at what cost? Their freedom?
The caravan followed a road that went through Samaria. They could follow the main trade route and pick up the road from Caesarea Maritima. That would take them to Jerusalem. From there it was only a few miles further on to Bethlehem.
At night they would stop and make camp. Several small fires sprang up. Clay pots clanked as they were brought out for the evening meal.  The women began to prepare the meal while the men tended to the animals and made up the camp.
The soldiers moved off by themselves. Joseph could hear their coarse joking and laughter.
After they ate and cleaned up, someone lead them in saying the Shema. Another began singing one of the Psalms of Ascent. Those sacred verses that had been sung by countless pilgrims on their way "up" to Jerusalem.
As they turned East on the road to Jerusalem, Mary started to worry. A few times along the way she had experienced pains and cramps that told her the child was becoming impatient. Some of the older women noticed and stayed close to her. This road was no place for a child to give birth to a child!
The caravan finally arrived at Jerusalem. There were people everywhere! Shops were open and the keepers stood outside calling to any who would listen.
"Come in! I have the best and purest oil for your lamps!"
"Chickens! I have chickens that are the tenderest and tastiest anywhere! Hey! You travelers! Come and buy! These will sustain you on your journey for many days!"
Some  said goodbye to the young couple. They had ancient roots here. The soldiers also went off to the garrison near the Temple mount. Joseph and Mary turned to the road that would lead them West out of Jerusalem then South to Bethlehem.
Soon they saw the town. Although it was small, Bethlehem boasted of being the burial place of their ancestor Rachel. She was the beloved wife of the Patriarch Jacob. It was also the hometown of the greatest King to ever sit on the throne of Israel: David! Oh, to have a King like him again! Not some lackey like Herod. That half-breed was nothing but a Roman puppet.
In their hearts, every person in Judea and Galilee hoped and prayed for the day when Adonai, the Lord, would raise up the promised Son of David. This Messiah King would return Israel to its former glory and strength.
"Hear, O Israel…"
Joseph took Mary and the cart to the center of town. He saw a well and a few shops. He inquired about the location of a certain family, relatives of his. Someone directed him to a small home near the edge of town. When they arrived, Joseph called out, "Shalom! I am Joseph bar Yakov! I have come with my wife for the census!"
A man came out looking rather put out at this interruption. His gray beard matched the scowl on his face.
"Joseph? Son of Jacob? I know a Jacob who had a son who was a little brat! Always chasing the animals and making a nuisance of himself. But, you! You are a grown man! How can this be?"
"Uncle!" cried Joseph.
A big smile broke out on the old man's face and the two men embraced and kissed. It had been a long time, nearly a year since they had seen each other.
Joseph helped Mary climb out of the cart and presented her to his Uncle Elihud. Others flowed out of the house and a great welcome was made.
After many hugs, kisses and slaps on the back, the young parents-to-be were taken into the house and upstairs to the living quarters.
Please take time to add your comments!
If you know anyone else who might like these meditations, please share! The more the merrier!