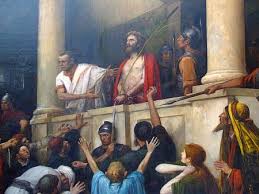 This morning during my quiet time with the Ignatian Spiritual Exercises I was reflecting on Jesus before Pilate. Jesus had just been brought back after having been whipped and mocked by Roman soldiers.
Pilate seemed to have a desire to release Jesus. He exclaimed, "See, I am bringing him out to you that you may know that I find no guilt in him" (Jn 19:4).
The Leaders would have nothing of that.
"Crucify him, crucify him!" they yelled.
"Shall I crucify your King?" Pilate asked.
As I considered this, an image formed in my mind.
I saw Pilate with Jesus, beaten almost beyond recognition, standing next to him. There was a bust of trump behind him. It had a laurel wreathe on its head.
I saw the crowd, Al Mohler, Franklin Graham, Mike Pence, Tony Perkins, Robert Jeffress, and others standing there yelling, "We have no king but Caesar."
---
It's sad that American Evangelicalism can elicit such an image. Sad, but true.