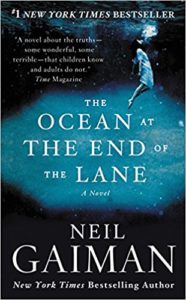 I just finished reading "The Ocean at the End of  the Lane" by Neil Gaiman.
Near the end he wrote the following:
"I said, "You don't have to take me home. I could stay with you. I could wait until Lettie comes back from the ocean. I could work on your farm, and carry stuff, and learn to drive a tractor."
She said, "No," but she said it kindly. "You get on with your own life, Lettie gave it to you. You just have to grow up and try and be worth it."
A flash of resentment. It's hard enough being alive, trying to survive in the world and find your place in it, to do the things you need to do to get by, with out wondering if the thing you just did, whatever it was, was worth someone having..if not died, then having given up her life. It wasn't fair."
When I read those words I felt the bitter sting of my own resentment. Not toward any other person. But, resentment toward myself. For, I too, know of someone who performed a similar sacrifice on my behalf. A sacrifice that I am ashamed to say that I have not 'grown up and been worth it.'
I've allowed myself to be turned from the path I was given to trod.
"Be sensible."
"Don't be selfish."
"Remember, you now have a family to support."
"Go ahead and do that. But, remember, it's ONLY a hobby. It can never be a real vocation."
"Sit still and do this task."
"You wrote this? Is there something wrong with you?"
"Get a hair cut!"
"Follow these rules and you'll find true peace and happiness."
"Jesus didn't die so that you could do whatever you want!"
Didn't he? What then was the purpose? So that I could live forever in some so-called paradise where I would still need to follow those rules? A place somewhere 'out there' where I would still need to conform to someone else's idea of who I am?
No.
I don't believe he did.
Someone wrote that Jesus once said, " I came that life they may have, and abundantly they may have (it)." (Sometimes when translated word for word, Greek sounds kinda like Yoda talking!) If that's true, what then constitutes that 'abundant' life?
Some say that giving in to the expectations that others have placed on us is that way. It's a challenge that all caring humans must accept and engage in. Follow the rules; meet their expectations and the reward will be worth it.
Will it?
Others may respond with, "We must follow those rules so that an ordered society can flourish. It's not about YOU! It's about the greater good!"
Uh huh, yeah, I get it. My dreams, that part of me that should grow up to show that the sacrifice was worth it, should be suborned for the sake of others. So that by my sacrifice others will have this same obligation placed on their shoulders. Then they can do the same and the obligation for the greater good can spread exponentially throughout the world. Is THAT what you mean?
IS THAT THE ABUNDANT LIFE?
If it is, I am truly not interested.
Yes, I get it that we have responsibilities. We need to eat and pay the bills. We need to nurture and protect those whose lives are intertwined with our own. I'm not debating that at all. And, I do think that there is meaning and fulfillment in meeting those responsibilities.
But, what about nurturing and protecting that person who lives within me? That person for whom the sacrifice was made? Does that person get relegated to row ZZ in the upper deck? That's what we're taught. Isn't it?
And, all the while I shrink. My spirit atrophies. I become a shriveled shell shackled and shamed into being someone I was never meant to be.
All of this tells me that, no, I haven't been able to "be worth it." Everything has been done with an eye to making someone else happy. That has led to some pretty harsh lapses. It seems that when we don't care for ourselves, something inside eventually rebels and life can go to hell in a particle accelerator at nearly the speed of light. Then that shell becomes more than shriveled and shackled. It becomes shattered.
So, what now?
Where does someone turn for redemption?
For fulfillment?
For a glimpse of the 'abundant life?'
I know that it may sound trite. But, I think that the only place to turn is to that person who offered that original sacrifice. I think that to touch the heart and mind of that person is key to unlocking the prison in which the true "me" lives. Or, the true "you."
For me, it's past time to break out and move forward. Sunday a Bishop of our Anglican church spoke. He shared several stories about people who asked God what they should do with their lives. They listened. They moved forward. They didn't become rich and famous. Some would say they weren't even all that successful. But, they lived their calling. They grew up and showed that the sacrifice made for them was truly worth it.
I hope that I can follow them. I hope when it's all said and done the One Who sacrificed can look at me and say, "Yeah, it was worth it."
If you know someone who might like these posts, please Share! Also, take a second to subscribe to this blog so that you receive notifications in your e-mail when new ones are posted. Thank You!