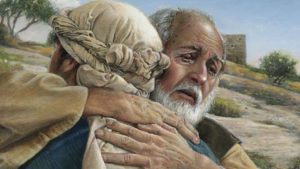 This morning I was listening to Fr. Gene Sherman continue his messages on the Apostles' Creed. The purpose of this series is to give people a basic foundation for belief held my followers of Jesus. While I don't agree with some of what Gene shares, (there is no compulsion to do so), I do find it refreshing listening to someone who actually learned how to do exegesis. Unlike so many others that I've heard.
Today Gene spoke on the portion of the creed that states, "I believe…in the forgiveness of sins." That idea is absolutely foundational to Christian belief. God is the one who is "compassionate and gracious, slow to anger, abounding in love and faithfulness, maintaining love to thousands, and forgiving wickedness, rebellion and sin."
One example he used was the story of the Father and Two Sons in the Gospel according to Luke, Chpt. 15. Gene gave the usual take on how gracious the father was to both sons. After being so unjustly used by the youngest, the father received him home again with open arms.
What struck me today, though, was something I had read dozens of times, but failed to really recognize. That's not unusual with a pericope like this that is so packed with good stuff.
The story goes that a young man left his father and brother and took his inheritance. He then lost it all living an extravagant lifestyle. Ultimately, he had to hire himself out to someone who put him to work feeding pigs. To a Jewish ear, no one could fall further than that. Finally, the young man "came to his senses" and thought that while he sat there with nothing to eat, his father's servants had plenty to fill their bellies.
What caught my ear was that when he realized what he had done, the first thing he thought of was his stomach. Hunger had driven him to a place where he could decide to return to his father's home. It overcame his pride and shame.
So, he left for his fathers home, all the while rehearsing the lines he would use to ingratiate himself with his father.
(Now, before anyone gets their boxers in a bunch about how I worded that last sentence, let me be clear about something. I truly believe that the young man in the story was repentant. Somewhere along the line he realized that he had treated his father shamefully. He had, in fact, wished him to be dead by asking for his inheritance. I'm not diminishing that at all. But, we all have many motives for the things that we say and do.)
When he finally returned home, his father ignored all social protocol and ran to meet his son. He welcomed him home with new clothes and reinstated him to the family with his own signet ring. What happened next is what struck me.
He held a banquet and slaughtered the 'fattened calf.'
The young man came to his senses spurred on by his hunger. Here, his father lavishly welcomed him with a great feast.
Many who exegete this emphasize the father's role with both sons. With the youngest is the way in which the father went 'over the top' in his welcome. Jesus used this story to show the Pharisees and teachers of the Law, (those who thought that they were the true keepers of the faith; the 'gatekeepers' to bring it into contemporary parlance), that they, in fact, did NOT know the Father. Their preconceptions of a righteous and just God mandated that their 'god' be bitter and retributive to those who acted, well, like the young son in the story. Yet, Jesus revealed a Father who was willing to stoop to unbelievable low levels in order to welcome the young man and lavish good things on him.
That is how God is. When we are hungry and starving, God is there to prepare a great feast for us when we return. God gives from God's own abundance to the weary and wayward. BTW, God also gives "everything he has" to the older son who remained with him faithfully. But, for those of us who come to our senses, God has a special welcome for us.
Please feel free follow this blog and share your thoughts in the comments!
Also, if you know anyone who may be interested in some of the things written here, Please share with them!